Facebook Messenger: Lead Generation Tools
The Messenger team's goal is to weave Messenger into HubSpot's core functionalities:
Bots, Conversations, Contacts, Marketing tools, and Reports.
Facebook is investing significant time and money into building their business platform, with Messenger at the forefront. 8 billion messages are exchanged between businesses and people per month with about 300,000+ active bots.
Background
After successfully launching the Messenger integration with HubSpot, I started working on how to use Messenger as a lead generation and conversion tool. HubSpot was originally built as marketing software, making it easy for marketers to build lead conversion campaigns with traditional outlets like forms and email. A traditional lead generation campaign involves more than a couple of tools and steps, needing to create a landing page, a calls-to-action button, a form, actually creating the content, and follow up emails. With Messenger, we saw great potential with moving many of these steps into the Messenger chat window. There's already excitement around live chat on B2B and B2C websites in general; however by tapping into Facebook's platform, users will not only be able to continue these conversations off their website, but automatically get a suite of features unavailable in other chat software.
Potential Future-state user flows
The concept of using Facebook Messenger in B2B software and weaving it into our existing tools has been a hard one to explain and share internally. Here is a piece of a blog post I wrote to clarify our team's mission.
Imagine a world where businesses can't buy contact lists, where every person in their audience has opted in. Where marketers create an entire campaign flow in one tool. Where sales reps chat with leads at their own pace, both in real time and off-line. Where our customer's customers have one threaded, easily accessed chat history for received content, questions asked, and purchased products.
In that world, I could see our customer's and end user's flow looking a lot like this…
HubSpot User's Point of View
Michelle is creating a new campaign around a new e-book. She opens up HubSpot and clicks to create a new Messenger flow. She names it, adds in a welcome message, a few alternative-to-form questions and attaches the e-book deliverable, all within one flow and experience. Michelle goes to her landing page, adds a 'Send to Messenger' button, and publishes. Later that day, she sees a new contact has been created via Messenger, specifically from this new campaign.

A week later, Andy, a sales rep, is notified he has a new lead. Andy is pumped because he can see what content she's already downloaded and what questions she asked Messenger and what she's subscribed to. He starts a 1:1 conversation with the new lead in HubSpot's Inbox.
End User's Point of View
Rachel sees an offering for a useful e-book. She reads what it's about, wants it, and clicks the "Send to Messenger" button which opens Messenger in a chat window on the landing page. A friendly bot already knows her name, asks her a few light weight questions, and gives her the e-book. There's an option to subscribe for similar content, she clicks yes.

A week later, Rachel has a few questions so she goes back to Messenger because she's already in contact with the business there. The Messenger bot answers a few of her more general questions with it's FAQs, but she has a sales question. The bot transfers her over to Andy, a sales rep, who can instantly answer Rachel's question.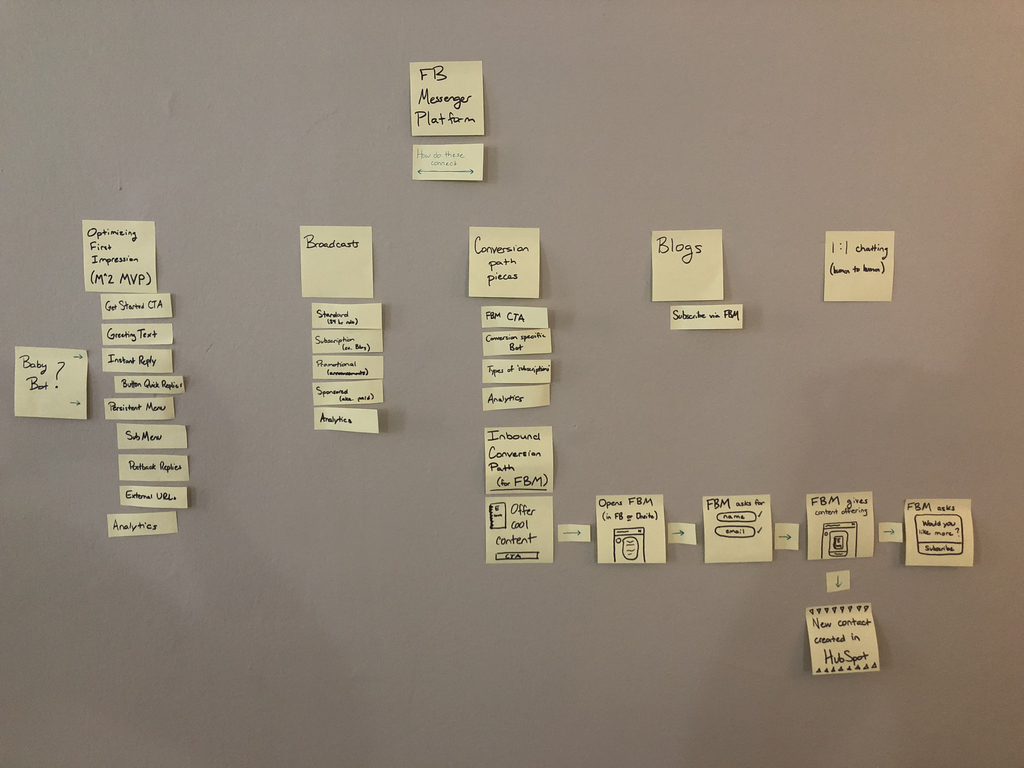 Usability Issues
One of the main functionalities of building a bot is for the user to ask their customer a question, giving pre-set quick replies as options to answer. Each quick reply answer can be saved to that person's contact record and also used to kick off different branches of the bot conversation.
Facebook introduced a 20 character limit to quick replies, cutting off the quick reply text without any explanation to the end-user. I needed to create a way to keep the same functionality that the had intended and built within HubSpot, let them know what was happening, and keep within Facebook's limit. First, I implemented a friendly informational alert would appear in the sidepanel to explain to the user what was happening. Secondly, each quick reply was matched with a numerical value and it was these numbers which became the new quick reply options (see below for an example).
Finalized Designs
Messenger FLow Creation
End User Experience Live preview
Status
After a successful Beta, this tool has been launched to HubSpot's Partners (software resellers and marketing agencies) to learn the tool before general release.